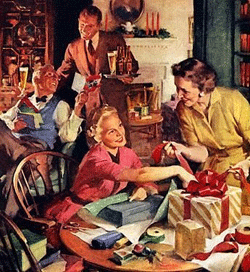 The last few leaves have finally fallen, the temperature has dropped to just above freezing, the mall is teaming with stressed out shoppers, this must only mean one thing…IT'S WINTER BEER TIME! That's right boys and girls the time of year that all beer lovers wait for with bated breathe is finally upon us.
Thankfully winter beers have changed quite a bit from the time of our parents. Winter seasonals now come in two major categories; Christmas beers and winter warmers. Christmas beers are the more unique of the two seasonal styles. They are more malty and contain a myriad of fruits and holiday spices. There are no rules in place for Christmas beer recipes so each brewery develops it's own very unique offering. So unique that most brewers change the recipe every year. Winter warmers on the other hand are more defined. They mainly stick to the four traditional ingredients – water, yeast, malt and hops. Even though there is less spice variety in these beers the flavor is anything but lacking. Winter warmers are usually more hoppy and higher in alcohol (must be to give you that "warming" feeling). Winter warmers are the most popular style beer during winter due to fact that most breweries produce some form of a winter warmer.
So if all this talk about spices, pies, hops and malts has perked your taste buds then you are in luck. I have put together our top five favorite winter time offerings.
In no particular order:
1. Abita Christmas Ale 2009 – This is a perfect example of Christmas beer. The recipe changes each winter so every year the flavor is a little different. The flavor is chock full of Christmas spices. Definitely one of our favorites.
2. Samuel Adams Winter Lager – Very popular main-stream winter warmer. Flavors are mild yet spicy enough to keep you warm on those frigid nights. Great session style winter warmer.
3. Anchor Steam Christmas Ale 2009 – Great representation of a Christmas style beer. Everything about this beer says holiday season. Spicy, hoppy, sweet…this beer has it all.
4. Winterhook Winter Ale 2009 – Winter warmer from Redhook that delivers on all fronts. Crisp, hoppy and easy to drink this beer is a great selection for your winter parties. Guaranteed to warm everyone up.
5. Samuel Adams Old Fezziwig Ale – The boys over at the Boston Beer Co. have made an incredible winter warmer. This beer has more of a malt profile then hops giving it a sweeter, more full bodied taste. Hard to find and easy to drink make this a coveted beer.
Of all the seasonal beers available throughout the year winter beers are the most anticipated. Why, you may ask? I don't know, maybe it is the unique warming nature of winter seasonals or maybe it's the complex spicy flavors that remind you of Christmas dinner. Whatever the reasons these limited craft brews are some of the best beers available. So take a break from shoveling snow or wrapping presents and treat yourself to a little holiday cheer in the form of a delicious craft winter beer.
Happy Holidays from all of us at The Beer Critic!