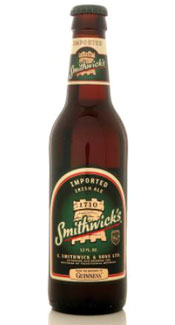 Brewery Website: http://www.smithwicks.ie
Type of Beer: Irish Red Ale
Alcohol Content: 4.50%
Beer Review –
Appearance: Color is a beautiful amber-red. Very clear. Head was big and puffy and receded to a fine lacing.
Smell: Floral aromas from the hops along with a nice mix of malts and dark fruits. Some graininess in the finish.
Initial Taste: A malty sweetness covers the mouth and is beautifully balanced with a hop bitterness. Very slight coffee/smokiness from the roasted barley. Finish is little bitter and very clean. Very smooth beer.
Thoughts: The Smithwick's company began over 300 years ago. They boast the title of THE Irish Red Ale. Being the  longest established brewer and the oldest working brewery in Ireland it's easy to see why this beer is so popular. This is some of the best of the big industrial beers. Sure the recipe has changed since the big Guinness buyout but the beer remains at the top of the Irish red ales. While this beer won't blow you away with flavor as other craft Irish reds do it does deliver as a refreshingly smooth session beer. I recommend.
PS. Mix this and Guinness to create a traditional Irish Black & Tan. 50/50 Guiness & Smithwicks.