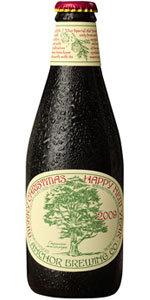 Type of Beer: Spiced Ale
Alcohol Content: 5.5%
Beer Review –
Appearance: Pours a deep, dark red mahogany.  Coffee colored one-finger head that slowly relaxed into some of the nicest lacing I've seen on a seasonal beer.
Smell: Awesome. Smells like a Christmas dessert. Starts off with spearmint, nutmeg, cinnamon and cloves. This is followed by a delicious sweet chocolate malt scent that screams drink me!
Initial Taste: Full bodied, rich, spicy, hoppy, malty beer. Delicious.  There is a definite taste of mint in this beer. Possibly spearmint. It combines very well with the chocolate, almost making it taste like mint chocolate. The spicy flavors of the cinnamon, nutmeg and hops are mixed beautifully with the sweet chocolaty malts that round out the ale.
Thoughts: This being my first beer seasonal beer from this popular craft brewery I have to say it didn't disappoint. In fact this particular beer quickly become my favorite Christmas beer this winter. The spices are blended to perfection. Out of all the other winter/Christmas style beers we've tried we have yet to find another that uses hints of mint. This not only sets this beer apart but brings the flavor to a whole new level. Sadly I did not get the opportunity to try last year's brew but I'm hoping they don't change the recipe too much for next year. If you like Christmas beers and haven't tried this beer, run as quickly as you can to your local beer store and grab a couple of these beauties. I will warn you however, falling in love with this beer can be a heart breaker as it's only out once a year and it's possible next year's batch will not taste the same. So Merry Christmas and enjoy as much of this beer while it's around. Cheers!
*You may notice there is a year (2009) in the title of this beer. This is because the recipe for this very special ale is different every year.