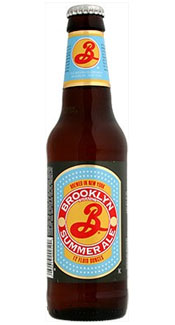 Brewery Website: http://www.brooklynbrewery.com

Type of Beer: English Ale
Alcohol Content: 4.5%
Beer Review –
Appearance: Color is a crystal clear, pale golden yellow. Poured with a fizzy one finger head that dissipated quickly leaving little to no lacing.
Smell: This beer has a soft and clean bouquet. Along with some subtle hoppiness there is a nice amount of doughy/biscuit scent. Just what you would expect from a refreshing summer beer.
Initial Taste: Very nice and clean with a perfect balance of slightly bitter hops and sweet bready malts. Along with a great combination of sweet and crisp there is good amount of lemon. The lemon adds a  nice zest to the beer making it quite refreshing. Very little aftertaste.
Thoughts: Crisp and clean this beer hits the spot on a hot summer afternoon. Brooklyn Brewery have a great job at making a beer that is light enough for good drinkability yet flavorful enough to not get boring. While I'm not usually a big fan of lemon flavored beer this one made the grade. The lemon was only strong enough to add that refreshing zip that makes this so good for dealing with summertime heat. And down here in SW Florida….there is plenty of that. If you like summer style beers you owe it to yourself to check this one out. Cheers!