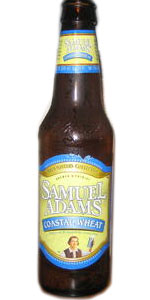 Type of Beer: American Hefeweizen/ Wheat Ale
Alcohol Content: 5.40%
Beer Review –
Appearance: Pours a hazy, golden orange. Two finger white head that lingers leaving very nice lacing.
Smell: First and foremost a definite lemony, flower-like scent with maybe a biscuity wheat undertone.
Initial Taste: Pretty nice buttery bread flavor, followed by a lemon floor cleaner taste. I think the hops are too perfume-like, which doesn't go well with the lemon zest. Way overpowering to me. A bit too carbonated as well.
Thoughts: I don't understand their decision to include this in the Winter Brewmasters pack, as this really is a Summertime beer. I think they just took some Summer Ale and instead of adding the Grains of Paradise, they put more lemon in it. The peppery bite might have saved this one. Alas, it didn't.