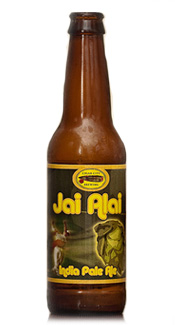 Brewery Website: http://www.cigarcitybrewing.com
Type of Beer: American IPA

Alcohol Content: 7.5%
Beer Review –
Appearance: This handsome IPA poured a bright copper color with perfect clarity. Head was about two-fingers of creamy goodness that settled to a thick film. The head lasted quite a while leaving behind some incredible lacing that covered the walls of the glass as if it was painted on.

Smell: Right off the bat the hops jump out at you with a mixture of citrus and fruit (grapefruit, orange and peaches) and a piney earthyness. Some caramel makes it's way into the nose adding a nice sweet addition to the bouquet or hops. The smell of this one really gets the mouth watering.
Initial Taste: The flavor starts off with a caramel and toasted bready sweetness. This sweetness doens't stick around long as the big hoppy backbone comes busting through with a big citrus and pine spiciness that leaves your tastebuds begging for more. This big hop profile finishes smooth with a subtle fruitiness that tastes like a mix of peaches and apricots. Aftertaste is dry and a little citrusy.
Thoughts: This is the flagship beer for Cigar City Brewing Company in Tampa Florida.  Jai Alai IPA (pronounced "high-lie") pushes the boundaries of an American IPA with almost enough hops to push it into the Double ( or Imperial) IPA category. However when you try it you'll notice that even though this is a hop monster its also beautifully balanced with a caramel sweetness that makes this one of the best IPA's I've had the opportunity to try. The hop profile is professionally choreographed with flavors of citrus and piney bitterness that has fruity highlights of peaches and apricots. This is proof that the brew geeks over at CCB know how to make some pretty decent suds. If you haven't tried this, or any CCB beer for that matter, don't delay any longer. Get out there and try some of the best craft beer America has to offer. Cheers!