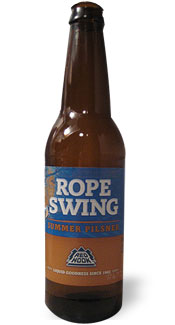 Brewery Website: http://www.redhook.com

Type of Beer: Pilsner
Alcohol Content: 5.3%
Beer Review –
Appearance: Pours a light golden yellow with perfect clarity. Gives a one finger bright white head that fizzles out pretty quickly leaving a small film over the beer.
Smell: The aroma is distinctly that of a pilsner, cereal grains with scents of spices and citrus fruit. This however has a nice sweetness to it as well, almost smells like honey and caramel. Very clean smelling.
Initial Taste: The initial flavor seems to be a mild sweetness given by the Caramel and Munich malts. Following the malt the standard pilsner flavor of toasted grains and subtle hop spiciness take over the palate. The finish was a bit dry and somewhat sharp. Leaving an extremely clean aftertaste. Quite refreshing.
Thoughts: I've always been a fan of Redhook brewery so when I heard they were going to be releasing a pilsner for summer I was quite excited. Being this is Redhook's first attempt at brewing a pilsner style beer I believe they have done a very fine job. Lovers of pilsner style lagers will certainly enjoy this one. This is a true pilsner beer made with Czech (the creators of pilsner beer) hops which give it that distinct herbal bitterness that make this beer so clean and refreshing. Being a seasonal beer this is a perfect match for coming summer heat. I highly recommend.