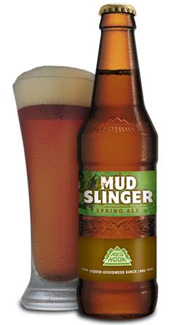 Brewery Website: http://redhook.com/
Type of Beer: Nut Brown Ale
Alcohol Content: 5.8%
Beer Review –
Appearance: This nut brown ale poured a bright copper color with perfect clarity. Head was about one finger and dissipated to a thin film rather quickly leaving behind only a trace of lacing.

Smell: The first thing that comes through when smelling this beer is a sweet yet fresh graininess that is somewhat expected with a well made brown ale. That bright, sweet smell of grains and subtle grasses gives way to a nice hint of hops. There is also a bit of chocolate and caramel malt that come through at the end making this a complex and delicious smelling brew.
Initial Taste: A toffee sweetness hits the tongue first carrying with it a nice mix of grains and subtle chocolate malts. There is no doubt that this is first and foremost a malty beer with big sweet flavors of chocolate, toasted sugar, caramel and vanilla but there is just enough of an earthly hop bitterness to cut through the sweets and help balance things out. Mouthfeel is a little on the thin side due to some high carbonation. The finish is a bit dry with a lingering sweetness.
Thoughts: Mudslinger Spring Ale is a re-branding of their nut brown ale. I'm not sure why they rebranded it, I can only assume it's to match their catchy seasonal naming convention (ie: Rope Swing, Late Harvest, etc). Either way it's a great name for this sweet nutty ale. Being a nut brown the predominate flavors are going to be sweet and this doesn't disappoint. This heavily malted beer has lots of chocolate, nutty, caramel and vanilla flavors to satisfy even the most discerning sweet tooth. Yet all is not lost for the hope heads among us. Certainly this is a sweet beer but Red Hook has added just enough hops to give this sweet ale an earthy, grassy bitterness that not only does a great job at balancing the beer but really tastes like springtime. The only downside I found was the thin mouthfeel. The carbonation was quite high so it gave a thin and somewhat watery feel. Your millage may vary so make sure you check this beer out for yourself. Overall I'm happy with the beer and could easily drink a few on a nice spring day. Cheers!