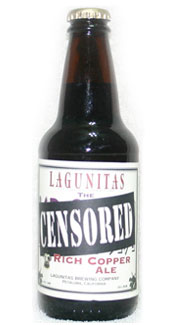 Brewery Website: http://www.lagunitas.com

Type of Beer: American Amber Ale
Alcohol Content: 5.9%
Beer Review –
Appearance: Color is a beautiful copper, rich and bright with a slightly hazy complexion. Poured with a two finger head that receded quickly leaving good lacing.
Smell: Talk about a sweet smelling beer, this puppy is bursting with malty goodness. The dark malts give a nice toasted brown sugar and chocolate sweetness and we can thank thse crystal malts for the delicious toffee smell. I also noticed there was a bit of a spicy raisin finish. One of the best smelling beers I've reviewed.
Initial Taste: While not as intensely sweet as you might expect from the smell, the malts certainly make themselves present. On the first sip, toasted brown sugar and caramel flavors cover the taste buds. The sticky sweetness slowly slides off the tongue making way for the hops with a touch of lemon and pine. The finish is well balanced (a little on the sweet side) and a bit dry giving this beer good drinkability.
Thoughts: After smelling this beer you almost half expect to taste a heath bar when trying this copper style beer for the first time. However, this beer does not disappoint. Lagunitas has a great reputation for delivering quality full flavored beers and Censored Ale is just that. With only 25 IBU's the hop presence is pretty low. And even though this is probably the sweetest beer that Lagunitas has brewed they have done a good job with building the sweetness and still keeping the drinkability of a lighter beer. I highly recommend to sweet lovers and hop-heads alike.