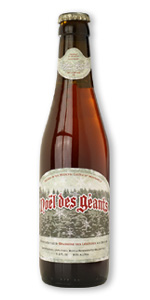 Brewery Website: http://www.brasseriedesgeants.com
Type of Beer: Spiced Beer
Alcohol Content: 8.50%
Beer Review –
Appearance: Poured a hazy dark brown amber color that looked a lot like unfiltered apple cider. White two finger head that recedes quickly revealing some fantastic lacing.
Smell: Wow. All sorts of wonderfully sweet scents come through. Dark fruits, plums, raisins and apricots. Molasses, caramel, malts and some yeast. Sweet yet spicy enough to make this an extremely enticing beer.
Initial Taste: Sweet malt bread up front giving way to the nice dark fruit flavors we noted in the smell. The usual suspects you would expect from a dark Belgian ale are present; Belgian sugar, plums, apricots, honey and fig. Tasted a lot like a fig newton with a nice smooth earthy finish. Very little bitterness.
Thoughts: A great winter offering from the Belgian beer lads over at Brasserie Des Geants. This beer is called Christmas of the Giants because it is brewed in the Irchonwelz castle in Irchonwelz Belgium. The Gate stands high to allow the passage of the occasional visiting giant. (pretty cool!) This is a spiced winter ale that delivers on all fronts. Lovers of Belgian style dark ales will no doubt immensely enjoy this beer with it's Belgian sugar and dark fruits. And fans of Christmas style ales will enjoy the cinnamon and holiday spices. When combined they create a flavor that is not only sweet and pastry-like but tart, dry and earthy enough to give this beer high drinkability. Not to mention even though the alcohol content is fairly high (8.5%) there is almost no trace of alcohol esters in the beer itself. As with most dark Belgian ales there is little no hop bitterness. This is one of the best holiday beers I've had this year and very different from the American Winter Ales we are so used to. Highly recommended.