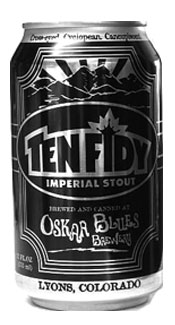 Brewery Website: http://www.oskarblues.com
Type of Beer: Russian Imperial Stout
Alcohol Content: 9.50%
Beer Review –
Appearance: Holy molasses syrup batman. This stuff pours like motor oil into the glass. Perfectly opaque, not a bit of light can get through this darkest of concoctions. If there is any carbonation it's too dark to tell. The head looks more like the crema on an espresso than it does beer foam. The one finger dark brown head recedes slowly leaving incredibly thick lacing that sticks to the glass without ever letting go.
Smell: Just smelling this beers makes your mouth start watering uncontrollably. It is what you would expect from such a dark, rich beer. Lots of dark chocolate, coffee, smoke, caramel and of course tons of malt. There is also a very subtle scent of raisins and other dark fruits.
Initial Taste: Extremely flavorful. The taste of this rich beer nectar is directly on par with the style. Sweet and dark chocolates hit the tongue first giving way to a nice coffee bitterness and then finishing with a layer of smokey malts. While this beer is very chocolate-caramel-sweet it is balanced to near perfection with acidity from the coffee and the smokiness of the malts. While I'm sure there are hops in this beer you will be hard pressed to find them.
Thoughts: Every time I try a new beer from Oscar Blues I think "they can't all be as good as this one", yet each time I've been amazed at the quality and flavor of these cans of liquid gold. Looking at the black and silver Ten Fidy can you get the idea that this beer means business. It's not colorful and whimsy like the rest of the OB lineup. Once you pour the beer you realize immediately why this is called Ten Fidy . As the name humorously suggests it looks remarkably like 10-w-50 motor oil. The taste however couldn't be more contradictory. This viscous syrup taste like a malted milkshake with bittersweet chocolate. Sweet, smooth and perfectly rich. This is a prime example never judging a beer by it's label. However for those who have sampled the other Oscar Blues libations you already come to expect a great things from all their beers. If you dark beer lovers have not already tried ten Fidy, then I highly suggest you get yourself to the beer store most ricky tick. You will not be disappointed! I give this beer a very rare 5 out of 5.