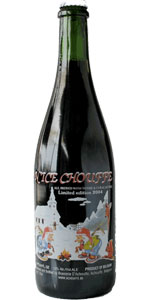 Brewery Website: http://www.achouffe.be
Type of Beer: Belgian Strong Dark Ale
Alcohol Content: 10.0%
Beer Review –
Appearance: Beer comes in a 750ml bottle that when held up to the light reveals a myriad of spices, yeast and other goodness suspended in this heavenly nectar. The beer pours a very dark brown that is extremely cloudy and near opaque. The head on this beauty is like nothing I've ever seen, 3 finger light brown head that is so thick it leaves peaks like a lemon meringue pie right till the end of the beer.
Smell: Lots of winter spices, nuts, dark fruits with a sweet citrus finish. Spicy and fruity yet the scents are soft enough so they blend together well.
Initial Taste: Wow, all the spices and fruits I found in the smell come through perfectly in the taste. Starts off with sweet citrus and malts then the spices make their way to the palate; dark fruits, berries, nutmeg, cinnamon, thyme and hops. Even though this is a 10% alc beer you can hardly notice the alcohol. This beer is like drinking a really good fruit cake. Very well done.
Thoughts: N'Ice Chouffe is limited release winter beer from the Brasserie d'Achouffe brewery in Belgium. This is the first beer I've had the privilege to try from these guys and now I can't wait to try the rest of their lineup. This is unlike any other Belgian beer I've tried. It is a strong, bottle-fermented ale, brewed with thyme and curaçao peel amung a spice rack of other flavors. Because this beer is so flavorful and thick it was difficult to finish the entire 750ml bottle. I highly suggest sharing this with a friend. I reccomend this beer to anyone who enjoys rich, dark, flavorful ales. This has become my favorite winter seasonal beer and I hope you enjoy it as much as I did.