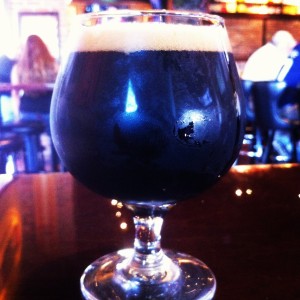 Brewery Website: Dogfish.com
Type of Beer: Brown Ale
Alcohol Content:12%
IBU:50
Beer Review -Dogfish Head Palo Santo Marron
Aroma: Big time coffee, chocolate, but I'm going back to coffee with this brew.
Appearance: Black as night, zero visibality and dark Carmel head. Loads of super sticky lacing.. I wanna lick the glass for the last bit of goodness
Taste: Smooth creamy chocolate little sour finish, I would love to see what other reviewers think. I will say this Is a work of art not a beer.
Palate: Oily at best, very heavy on the tongue with a long residual flavor, I might be enjoying this little gem tomorrow. Very heavy, thick and alot of alcohol that is lingering in the mouth.
Overall:
I am a huge fan of dogfish head, I love that they go out of their way to make such unique and amazing brews and this one is no different, it is a super strong sipper that is great for an after dinner drink. More of an imperial stout than a brown ale but honestly I think I am in love with this hearty drink.
Reviewer Notes: James Sheehan is a Guest Critic – Check out his Cider Reviews site for other reviews by him.