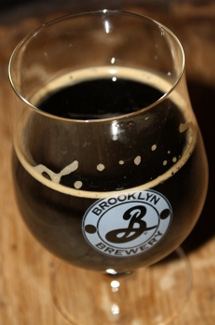 Brewery Website: http://brooklynbrewery.com/
Type of Beer: Maple Porter
Alcohol Content:6.9%
Beer Review –
Appearance: Dark Carmel brown color almost black, micro bubble head the color of my sandbox when I was a kid.
Smell: (yeast,smell) no maple.. Bah humbug, I want my burnt pancakes and maple syrup.
Initial Taste: Surprisingly sweet taste, little coffee, little nutty flavor with a dark malty back end. Smooth, smooth on the mouth but not oily like some porters, carbonation is almost non-existent and the finish is a lingering malt/nutty flavor with a touch of alcohol.
Thoughts: The beer is named after quality control employee Mary Wiles, who contributed the maple syrup, what Garrett Oliver called "Mary's secret life of trees." It comes from her family farm, Cedarvale Maple Syrup Co., in upstate NY.  Because I'm a big fan of Brooklyn Brewery I expected more from this "maple porter". It was a tad thin in the body and honestly I had a hard time pickup up the maple flavor. Also there was a bit too much alcohol on the tongue for a 7.5 ABV beer. Overall it wasn't a terribly bad porter… but wouldn't recommend if Maple Porters if you're looking for a maple syrup beer. One last thing, because this beer is such a low run specialty brew it's only available on tap. So you'll have to do a bit of calling around to your local beer bars to see if they have it. Cheers!
About Reviewer: James Sheehan is a Guest Critic – check out his main site at www.ciderratings.com