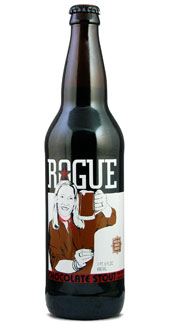 Brewery Website: http://www.rogue.com/
Type of Beer: American Stout
Alcohol Content: 6.0%
Beer Review –
Appearance: Color is completely opaque black. Pours like molasses and gives a nice two finger dark brown head. Looks very similar to an espresso. Head recedes slowly leaving sparse lacing.
Smell: Chocolate, chocolate and some more chocolate. This stout screams chocolate. Pretty much what you would expect from a stout called "Chocolate Stout". Along with the awesome sweetness of the chocolate notes you can also pick up a slight coffee, smokey smell. Incredibly enticing.
Initial Taste: Luckily the flavor follows suit with the smell. Sweet chocolate malts and natural bittersweet chocolate flavors mix with an ever so slight hop bitterness to create a very well balanced sweet chocolate stout. Finish is sweet and dry.
Thoughts: There are few companies that carry as many awards as the guys at Rogue have accumulated. Turning out beer the likes of Chocolate Stout make all the awards and critical acclaim make sense. This isn't your usual chocolate stout. A lot of chocolate stouts seem to have an acidic, coffee flavor and fall short with real chocolate flavor. Not with this beauty. Smooth, sweet and chocolaty this beer tastes like a chocolate malted milkshake. With a slight hop and bittersweet chocolate bitterness this beer doesn't become 'overly' sweet. Allowing you to drink multiple beers without feeling overwhelmed with sweetness and chocolate flavor. This is by far my favorite chocolate stout I've tried. If you enjoy stouts, more specifically chocolate stouts, and have not had the pleasure of trying this delicious chocolate concoction, I strongly urge you to seek one out. You will not be disappointed. I give this a 5 out of 5. Cheers!