So with easter coming up what better way to celebrate than with a bottle of HOPtologist. Okay, it's a stretch, the label does not have a picture of a bunny but rather a white glove wearing crazy doctor that in no way would be giving me a rectal exam.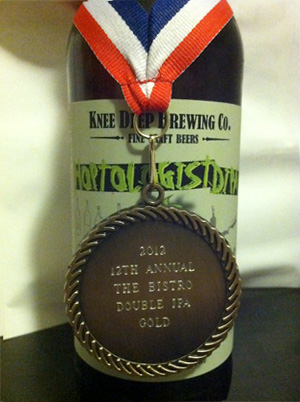 Hoptologist is a year round beer brewed by Knee Deep Brewing Company. I never heard Knee Deep so I had to look them up. Knee Deep Brewing Company is located in Lincoln, California but according to The Beer Advocate will be moving to Reno when the 30bbl system is installed. After looking at Knee Deep's story on their website moving to Reno, Nevada makes sense because their Brewmaster, Jeremy Warren, is a graduate of the University of Nevada Reno. According to the story Jeremy's passion for beer helped him through those difficult college years.
Jeremy has been brewing since 2006 and has produced over 20 different beers. He has won several awards and his reputation is growing in the industry. After tasting Hoptologost I can see why and after learning Hoptologist Won Gold at the 12th Annual Bistro Double IPA Festival, I wish I had another one to open.
Hoptolgist beat out  Ruination from Stone brewing which is also a great tasting beer. This is a Double India Pale Ale so the Hops are powerful but it has a great malt balance that really smoothes it out. To me, it was like a Hopsocutioner Light. Not light in calories but slightly less hops.  This was a great beer, with a smooth finish so do yourself a favor and get more than one. Trust me, if you like your beer with hop you'll be glad you did.  Happy Easter everyone.