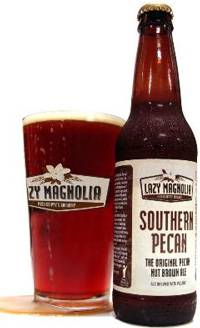 Type of Beer: Brown Ale
Alcohol Content: 4.25%
Beer Review –
Appearance: Deep mahogany with thin, one-finger, off-white head.
Smell: Soft and mild but you can definitely pick up the pecans. Interesting.
Initial Taste: Surprisingly nutty! The first flavor that hits your mouth is pecans followed by some hoppy bitterness and malts. It's not at all overwhelming. Very nicely balanced.
Thoughts: This being my first pecan beer I do not have much to compare it to. I have to say I really enjoyed this beer. The flavor of pecans is very prevalent. Not something I really anticipated. Most flavored beers only give hints of the special ingredient (ie: dogfish head raisen beer), but this gives it to you right off the bat. But don't worry it's not all nuts. They balance the pecan nuttiness with sweet malts and a nice hoppy bitterness that really makes this beer finish well (and without a pecan aftertaste). Can't wait to have another.