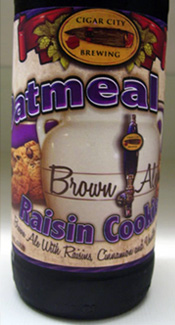 Brewery Website: http://www.cigarcitybrewing.com
Type of Beer: Brown Ale
Alcohol Content: 5.5%
Beer Review –
Appearance: Poured a dark brown with ruby highlights and great clarity. Head is tan and  fluffy with about two-three fingers of height. The head stuck around a lot longer than expected settling to a sticky film leaving behind beautiful lacing.

Smell: The smell….well by looking at the bottle one would expect to smell fresh baked oatmeal raisin cookies…and one would not be let down. Raisins dominate the smell coupled with a nice malty sweetness that plays well against the other spices: cinnamon, nutmeg, vanilla and whatever else makes up that delicious cookie goodness. This is one beer that begs to be drank.
Initial Taste: Taste is quite unique. Flavor starts out just like the smell with a predominance of raisins. This raisin, dark fruit flavor gives way to all those delicious spices: cinnamon, nutmeg and my favorite – vanilla. The brown ale this beer is based on throws some nice bittersweet chocolate into the mix. While this is certainly a sweet beer there is just enough bitterness to cut through the cookie and remind you that you are drinking a really (really) good brown ale. The finish is dry and a the flavor of raisins lingers a bit.
Thoughts: Cigar City Brewing Company is located only a couple hours north of me in Tampa Florida. They are celebrated for their brown ales. Believe it or not out of the top 10 brown ales on RateBeer 5 of them are from Cigar City Brewing! So that should tell that these guys know their brown ales. This offering is no different. Take their great Maduro brown ale and add raisins and all the delicious spices that make up an oatmeal cookie…now how could that be bad? This beer not only smells incredible it's taste is just as equal. All the flavors you expect to find in an oatmeal cookie are present and accounted for. Underneath this liquid cookie goodness is a terrific brown ale that's rated third in the world by RateBeer. The only downside to all this flavor and sweetness is the drinkability. When you add as much spice and flavor as this baked good beer has you really can only drink one or two before the flavor becomes overwhelming. But as a dessert beer there is little competition. I highly recommend (unless you hate oatmeal raisin cookies that is…but that's downright un-American). Cheers!