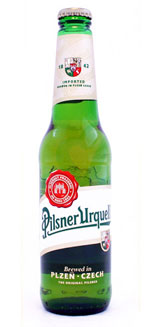 Type of Beer: Pilsner
Alcohol Content: 4.40%
Beer Review –
Appearance: Pours a beautiful golden orange with pure white head. Good lacing.
Smell: Soft hoppiness with subtle bread and citrus notes.
Initial Taste: Perfect mix of crisp hops and smooth malt. Finishes with a nice dry bitterness that makes you want more.
Thoughts: This beer is special as it is the original Pilsner beer. Most lagers made in the rest of the world are based upon this delicious brew. I recommend this beer to anyone who is looking for a refreshing, crisp, session beer. Enjoy!