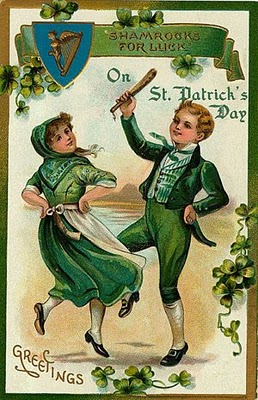 After surviving the long cold winter there is a sign that spring is coming…no it isn't all those great spring seasonals showing up on the shelves… (that's another blog post). I'm talking about the most beloved holiday known to God's most blessed people as Saint Patrick's Day! Yes, I'm talking about the best day of the year known here as St. Paddy's Day. The one day a year where everyone gets to be Irish and celebrate the great country of Ireland with the greatest of all pastimes – drinking!
Saint Patrick's Day was originally created as a religious holiday to celebrate Ireland's patron saint. Legend has it that St Patrick drove all the snakes out of Ireland, but as cool as that sounds it's just a legend. The truth is St Patrick was kidnapped from England as a boy and lived a life of slavery in Ireland until he returned to his family and entered the church. Later returning the northern Ireland as an ordained bishop. He lived the rest of his life in Ireland traveling throughout the country as a missionary of the Catholic church.
It wasn't until the Irish settlers came to Boston in 1737 that America was introduced to the holiday. And of course in America, not being known to turn down a party, the tradition caught on like wildfire and grew into a festival celebrating the Irish heritage. Being a proud Irish-American I look forward to St Patty's Day all year long. On what other day can you cover yourself in green and drink till you see leprechauns? So in reverence to this Irish day of celebration I present the top 3 most popular Irish beers in the US.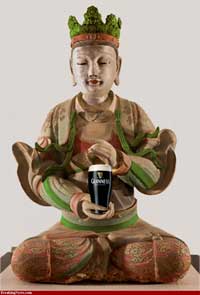 1. Guinness – Being the most popular beer associated with Ireland, Guinness holds an almost superstar status. Known in Ireland as the the "Black Stuff" this beer is the staple of Irish diet. The slogan of Guinness used to be "Gthuinness is good for you", inferring that this beer is somehow healthy. However, once science caught up to the claims of heart healthy beer, Guinness quickly removed such marketing schemes and denies any health benefits that this stout make provide over any other stout. But of course this does not mean that we should not keep enjoying the most popular beer of the Emerald Isle. Party recipe – Drop a shot of (50/50) Irish whiskey and Irish cream into a pint of this stuff for the classic St Patty's Day drink – an "Irish Car Bomb".
2. Smithwick's – Pronounced "smid-icks", this company claims to be the oldest beer in Ireland (1710). Being an Irish Red Ale this beer is not dark like it's Irish brother Guinness. Instead it is bright red. Smithwick's is a fairly crisp beer that acts as a great session beer when Guinness gets a little too heavy. Party recipe – Put these two together (half and half) and you have a Black & Tan.
3. Harp Irish Lager – The youngest of the three (1960), Harp is brewed in the second largest brewery in Ireland. Being the go-to beer in football games all over Ireland and England Harp is quickly rising as the most popular lager in the UK and Republic of Ireland. A lot lighter than the first two beers in this list, Harp is easy to drink and is very refreshing. Best drank on a hot summer day Harp will still be welcomed on that chilly day in March.
I hope that whatever beer you choose to drink you have a safe and fun Saint Patrick's Day.
A classic Irish Toast:
Seo sláinte an tséitéara, an ghadaí, an trodaí, agus an óltóra!
Má dhéanann tu séitéireacht, go ndéana tú séitéireacht ar an mbás,
Má ghoideann tú, go ngoide tú croí mná;
Má throideann tú, go dtroide tú i leith do bhráthar,
Agus má ólann tú, go n-óla tú liom féin.
-Translated-
If you cheat, may you cheat death.
If you steal, may you steal a woman's heart.
If you fight, may you fight for a brother.
And if you drink, may you drink with me.
And to all my Irish brethren – Beannacht Lá Fhéile Pádraig – Happy Saint Patty's Day! Sláinte!
PS: And for god's sake people, please don't drink that crap green colored beer these places serve. (Green food coloring curdles the beer!)