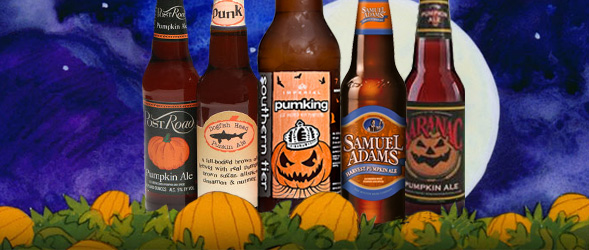 Welcome to my 2010 Great Pumpkin Beer Roundup!
Pumpkin beer has become a fast growing seasonal offering and I thought it only fair that we dedicate some time to this most flavorful of the fall beers. I thought it would be fun to change things up and hear opinions from others and not just my own.  So I put together a panel of taste testers to help me sort through these tasty pumpkin beers and choose a winner. The test group consisted of five people (included myself) which included novices and beer lovers alike. I chose to review the top 5 most popular beers (according to personal research…and what was available). The process was quite simple: I passed out one brewery's pumpkin brew at a time and let everyone taste at their leasure. Reviews were then heard along with giving each beer a ranking of 1 through 5 (1 being the best). Everyone was urged to give their honest and straight-forward opinion of the beer even if that meant pouring their test glass down the drain (which luckily didn't happen!). So without further adieu here are the results of our pumpkin roundup.
To keep this short(er) and sweet I gave the highlights of what each taster thought about each beer.
#5 Saranac Pumpkin Ale
Jason: bleh, much too watery. Flavors are not distinctive and get too muddled up. Not impressed (rated 5)
Jessica: Smells of clove and funky chemicals. Kind of a bland flavor. Some cinnamon and nutmeg taste but not enough to make want to drink it again. (rated 5)
Devin: Void of all pumpkin flavor. Has some cinnamon and an abundance of yeast and alcohol esters. (rated 5)
Sharon: Little bit too much cinnamon and not enough other spices. No real pumpkin flavor but very easy to drink. (rated 3)
Me: The nose isn't too bad with a mixture of clove and bready yeast. You can pick out the various pumpkin pie ingredients but not without effort. The flavor is too muted for my taste. (rated 4)
Overall: This beer ended up as the lowest rated out of the five mainly because the flavor was almost non-existent and the beer tasted too watered down. Not what you would expect from a craft seasonal.
#4 Sam Adams Harvest Pumpkin
Jason: Flavor is just ok with notes of clove, allspice, nutmeg and tobacco. Has a medium, chewy texture. Sadly, no real pumpkin flavor. (rated 4)
Jessica: Predominate flavor is allspice and nutmeg with not much pumpkin taste. Smell is light and faintly that of pumpkin pie. (rated 4)
Devin: Much more of a pumpkin pie taste than the Saranac. More nutmeg than any other spice. Not enough pumpkin flavor. (rated 4)
Sharon: Smells good and I can taste all the spices – nutmeg, allspice, cinnamon and clove. (rated 4)
Me: Sam Adams has done a fairly decent job with this pumpkin beer. The nose is nice and malty with subtle hints of pumpkin pie. Flavor is still rather bland and lacks the important pumpkin flavor. My least favorite. (rated 5)
Overall: While this beer was liked better than the Saranac it still needs work. The pumpkin pie spices were there but just not enough. And like Saranac the pumpkin flavoring was almost non-existent.
#3 Post Road Pumpkin Ale – Brooklyn Brewery
Jason: Surprisingly hoppy for me. Tastes of pumpkin pie with a nice raw pumpkin flavor. Aftertaste is sweet and satisfying. (rated 3)
Jessica: Flavor was peppery and spicy. Not a whole lot of pumpkin pie. There was more pumpkin pie flavor in the aftertaste. (rated 3)
Devin: Too much clove for my tastes. Some pumpkin pie spices. Definitely can taste the raw pumpkin. Overall the beer seemed too watered down for me. (rated 3)
Sharon: Taste nutmeg and clove pretty strong. Some hoppy bitterness/spiciness that I didn't care for. Aftertaste was good, pumpkin pie. (rated 5)
Me: All the flavors of a pumpkin pie are there; nutmeg, clove (bit heavy), cinnimon and allspice. Can certainly taste the raw pumpkin. Has a nice hoppy profile with a fantastic aftertaste. (rated 3)
Overall: A very good pumpkin pie beer that focuses more on the spiciness than the sweet. Making this a very drinkable beer. One of the few pumpkin beers that has real pumpkin flavor.
#2 Dogfish Head Punkin Ale
Jason: Tastes (and smells!) like pumpkin pie in a glass. What else is there to say? (rated 2)
Jessica: mmm… Sweet, malty, all the delicious pumpkin pie flavors along with a nice real pumpkin flavor. (rated 2)
Devin: Supremely balanced. Sweet flavors of pumpkin pie yet hoppy enough to make it all meld perfectly. Real pumpkin flavoring a big bonus. (rated 2)
Sharon: Tastes like someone pie a piece of pumpkin pie in the blender. Very well balanced. Can taste all the spices without any one being overpowered. (rated 2)
Me: My personal go-to pumpkin pie beer. All the flavors are expertly blended together to give you that great pumpkin pie flavoring with hints of real pumpkin. Awesome. (rated 2)
Overall: This beer easily beat the other three due solely on the fact that the flavor are blended so nicely (not to mention the smell is that of out-of-oven pumpkin pie!). The addition of real pumpkin to the brewing process is evident and greatly appreciated. One of the best pumpkin beers available.
#1 Pumking – Southern Tier
Jason: Explosion of flavor! Taste exactly like a buttery pumpkin muffin with caramel drizzled on top. If you close your eyes while smelling this you'd think you were in a bakery. (rated 1)
Jessica: Wow. Tastes like gingerbread butter cookies mixed with pumpkin and a scoop of vanilla ice cream on top. More please? (rated 1)
Devin: Amazingly accurate flavor of pumpkin pie crust. The pumpkin flavor is that of real pumpkin and not sugary pumpkin pie. Has a delicious creamy aftertaste that almost tastes like whipped cream. (rated 1)
Sharon: Tastes like a damn good pumpkin muffin. Can taste every spice found in pumpkin pie yet tastes more like a baked good (muffin or pumpkin bread) than a pie. (rated 1)
Me: Unbelievably delicious. Great flavors of brown sugar, sweet cream, pumpkin and biscuity yeast. While all pie spices are there the flavor is definitely more of a fresh baked pumpkin muffin than that of pumpkin pie.  Finish is spicy and hoppy yet that sweet character stays with you. (rated 1)
Overall: Pumking unanimously took the crown in our taste test. Mainly because the flavors were so intense and accurate. The flavor profile is complex, sweet and subtly hoppy with an incredibly creamy mouthfeel. The alcohol is high (9%) and can at times be somewhat noticeable, but that didn't deter us from enjoying this bakery fresh brew. What really stands this beer apart from the others in this list is the fact that this didn't really taste like pumpkin pie. It was more of a pumpkin baked good (a delicious one at that). With flavors like buttery biscuits and creamy vanilla mixing highlighting what tastes like real pumpkin filling makes this one of the best pumpkin muffins you've ever had. It's a beer that must be tried whether you are a fan of pumpkin beers or not.