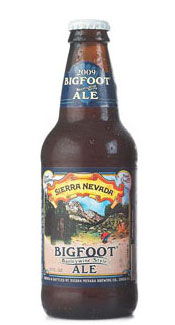 Brewery Website: http://www.sierranevada.com
Type of Beer: American Barleywine
Alcohol Content: 9.6%
Beer Review –
Appearance: Dark copper color with thick two finger head that recedes very slowly leaving incredible lacing and nice foam peaks. Clarity is good with some sediment on the bottom.
Smell: Rich, bold smell. Hops are quite strong, floral and piney. Hop scents are rounded off a bit with some malty sweetness and dark fruits like figs and raisins. Alcohol esters are noticeable.
Initial Taste: Like the great Emeril once (or twice) said "BAM!". The aggressive hops instantly dominate your palate – citrus, pine, leafy and earthy. After the initial wave of bittersweet hopiness the malts comes in to help smooth things out. The malts, while not as powerful as the hops, do give a welcome sweet caramel flavor that takes some of the bite off the hops.  The mouth feel is smooth and creamy with a dry and slightly alcohol warming finish.
Thoughts: Like most barleywines this is true to their nature with lots of flavor and tons of hop goodness. Bitter, oily,  sweet and earthy this Bigfoot is a beer to be sipped and enjoyed slowly. This being my first time trying this particular beer from Sierra Nevada I can't comment on the differences from previous years. I will say that if you are a fan of hoppy barleywines you will be hard pressed to find one like Bigfoot. The recipe for this beer changes slightly every year so if like me you enjoy this make sure you grab a few. And with the high alcohol content it's ok if you let it sit for a while….if you can. I highly recommend this to all hopheads and barleywiners out there. Cheers!