Name: Saranac Brewery
Brewery Website: http://www.saranac.com
Location: Utica, New York
Distribution: US
So we got a great gift delivered to theBeerCritic.com, twelve-pack sampler of Saranac beer from the Matt Brewing Company. Three of each: Pale Ale, India Pal Ale, Oktoberfest and Pumpkin. You'd a thought we opened a treasure chest of gold or handed a note from the cutest girl in the class. Smiles all day long. After the excitement wore off it was time to get down to business. Get those beers in the fridge so we can drink them.
I know the brewery is located up in the Adirondack Mountains but I wasn't aware the brewery was called the Matt Brewing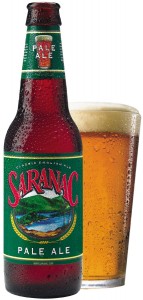 Company. After some more reading, I discovered it is over a century old run by 3rd and 4th generation family members Nick Matt (Chairman and CEO) and his nephew Fred (President and COO). For more history visit: http://www.saranac.com.
I like finding out new things about beer I drink.
Ok, so I grabbed the Pale Ale. I needed to try it again. The Saranac Pale Ale has to be the first craft beer I ever tried. When I lived in NYC I used to get my beer at the grocery store across the street. Most of the time I would get whatever was on sale, cause I was young, broke and right out of college. One day the Saranac was on sale so I decided to put the Miller Light back and try something new. I was hooked. That was the turning point when I started to venture out and try other beers, when I had the money.
I grabbed the beer and a glass and started to reminisce. After looking at the bottle and remembering the one bedroom apartment I popped the top and poured away. There was a nice fruitful aroma and the color was great looking copper amber. I went in for the taste and whoa. Not the hops I was expecting, there was more of a malt taste, not what I had planned but after the second sip. I liked it, a lot. What a nice change from all the hop beers I've been having. I can see myself looking out the 5th story window and down on the streets on New York while drinking Saranac.  I tried to make it last as long as I could but I had a India Pale Ale to try and needed to fill the glass. The IPA already has nostalgic competition so I cannot see it being better.
I grabbed a new glass, not sure why but I did. Popped the top and that white transparent cloud escaped the bottle. I could smell the hops immediately! What a great aroma. I poured away and it had a slightly lighter color but the smell was amazing. Needless to say the beer didn't last long in the glass. The hops were plentiful and there was a distinctive taste, almost like a Saranac signature. The IPA was enjoyable but memories run deep with the Pale Ale.
Tonight was a good night. Thanks to Nick and Fred for bringing up great memories and starting new ones. I promise to have the IPA on it's own without having the, you know what first. Keep up the good work Nick and Fred and may you have many years to come. So, if you're in the mood for an English style Pale Ale try a Saranac or want to try a traditionally brewed IPA reach for Saranac IPA, start a memory.
Currently, Saranac's flagship is their Pale Ale(5.5% ABV).
Other standards include:IPA: 5.8% ABV
Adirondack Lager: 5.5% ABV
Black Forrest: 5.3% ABV
Black and Tan: 5.1% ABV
Seasonals:
Summer Ale: 4.7% ABV
Belgian White: 5.3% ABV
Hefeweizen: 5.6% ABV
Pale Pale Ale: 4.7% ABV
Kolsch: 5.0% ABV
Pomegranate Wheat Ale: 4.7% ABV
Summer Brew: 3.5% ABV
Specialty:
Imperial Stout: 9.0%  ABV
Imperial IPA: 8.5% ABV