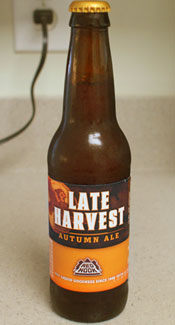 Brewery Website: http://www.redhook.com
Type of Beer: American Amber / Red Ale
Alcohol Content: 5.9%
Beer Review –
Appearance: The color of this beer can best be described as a bright copper with chestnut hue. Poured with a fluffy, one-finger, off-white head that slowly settled down to a sticky film that forms a beautiful lace on the side of the glass.

Smell: Smell begins somewhat sweet with bready malts, caramel and toasted malts. Some citrus hops creep to help spice things up.  There is a graininess in the finish. While the smell is more on the subtle side of things it's still alluring enough to wet your appetite.
Initial Taste: The flavor picks up where the smell leaves off. Smooth and creamy mouth-feel with bready malts and sweet caramel coming up to bat first. Followed up quickly by a crisp toasted graininess. The hops make there way across the palate last with a subtle but welcome fruity and herbal bitterness. Finishes dry and crisp with some lingering malt sweetness.
Thoughts: Late Harvest Autumn Ale is Redhook's fall seasonal. Redhook describes this beer as "easy-drinking, yet flavorful brew" and I think they accomplished exactly that. It's a fall beer that's NOT an Oktoberfest, which I find extremely refreshing as it seems every brewery either makes an Oktoberfest or pumpkin beer for the fall season. It's very nice to have another option on the table. This still gives you the full bodied creaminess you find in your Marzan Oktoberfests but the main difference here is that it's an ale with a flavorful hop complexity. Something that you rarely find in the other fall seasonals. This beer is robust enough to appease the hop heads yet subtle enough to drink as a session beer. Highly recommend.