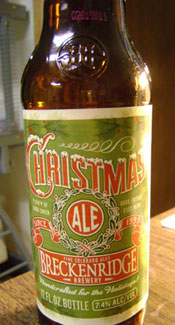 Brewery Website: http://www.breckbrew.com/
Type of Beer: Winter Warmer

Alcohol Content: 7.4%
Beer Review –
Appearance: The beer pours a beautiful rich mahogany with great clarity. There was very little head (one-finger's worth) even when poured with vigor. What head did appear was actually quite creamy and left decent lacing when swirled around the glass. Head settles to a film pretty quickly. If the head was a bit more pronounced and the retention better, this would be a picture perfect Christmas beer.
Smell: Toasted malt hits the nose first with hints of caramel and dark fruits following close behind. A nice pine-citrus hop scent cuts through the sweetness giving the smell of this Christmas beer a welcomed complexity. Finishes with some nice holiday spices (nutmeg, cloves and vanilla) and a bit of alcohol esters. Smell is somewhat subdued but still very inviting.
Initial Taste: The smell carries through into the flavor of this beer perfectly with big flavors of toasted malts, chocolate and caramel creating the sweet backbone for this holiday brew. The sweet flavors are balanced with hops that deliver some welcome citrus and piny bitterness. The finish is subtly sweet with flavors of dark cherries and coffee.
Thoughts: Breckenridge Brewery is no stranger to making unique and delicious beers like their Vanilla Porter and Agave Wheat so when it came time to check out their Christmas seasonal I knew I would be in for a treat and happily I was right. Their Christmas Ale is everything you would expect from a well crafted winter warmer: spicy, strong, sweet, malty backbone with a good hop presence. This holiday beer delivers right on par with good strong malt flavors and spicy hops and dark fruits with a high alcohol content to keep you warm on those chilly freezing winter nights. So a Merry Christmas to all and to all a good a beer!