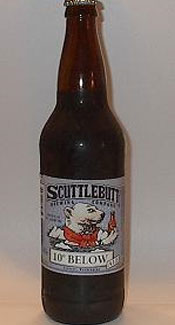 Brewery Website: http://www.scuttlebuttbrewing.com/
Type of Beer: Imperial Dunkelweiss
Alcohol Content: 7.4%
Beer Review –
Appearance: This dunkelweiss style beer pours a dark brown, rich copper color. Head was ok with one-finger, off-white appearance that didn't stick around long leaving behind almost no lacing.

Smell: Very interesting smell with this one. It starts off with a molasses sweet, roasted maltiness that really amps up the coffee and chocolate in the nose. There is also a small amount of citrus/fruity hop essence that tries to find it's way through but it ends up getting lost in the thick toasted sweetness from the malt.
Initial Taste: Like the smell would suggest the flavor is predominantly sweet. Big flavors up front with molasses, chocolate and caramel being easy to spot out of the gate. Flavor rounds off with an earthy hoppy bitterness that really helps cut through the bold sweetness of the malts. There is also a nice biscuity flavor that blends very well with the hops helping to give it a dryer finish that clears the palate readying you for that next sip. Aftertaste is subtly sweet with hints of those earthy hops.
Thoughts: Overall I am very pleased with this offering from Scuttlebutt Brewing Company. It's certainly a malty beer but being an Imperial Dunkleweiss that is expected. With it's strong chocolate, dark fruit, and coffee flavors (not to mention its 7.4% alcohol content!) it's no question this is a great choice for those cold winter nights when a strong beer is exactly what one needs to keep warm. Thankfully the beerologists at Scuttlebutt know what they are doing and have balanced this malty beast with just enough hops to make it deceptively drinkable. If you like sweet beers I recommend.